International Cycling Executives is excited to announce the establishment of a new Australian community partnership for 2023.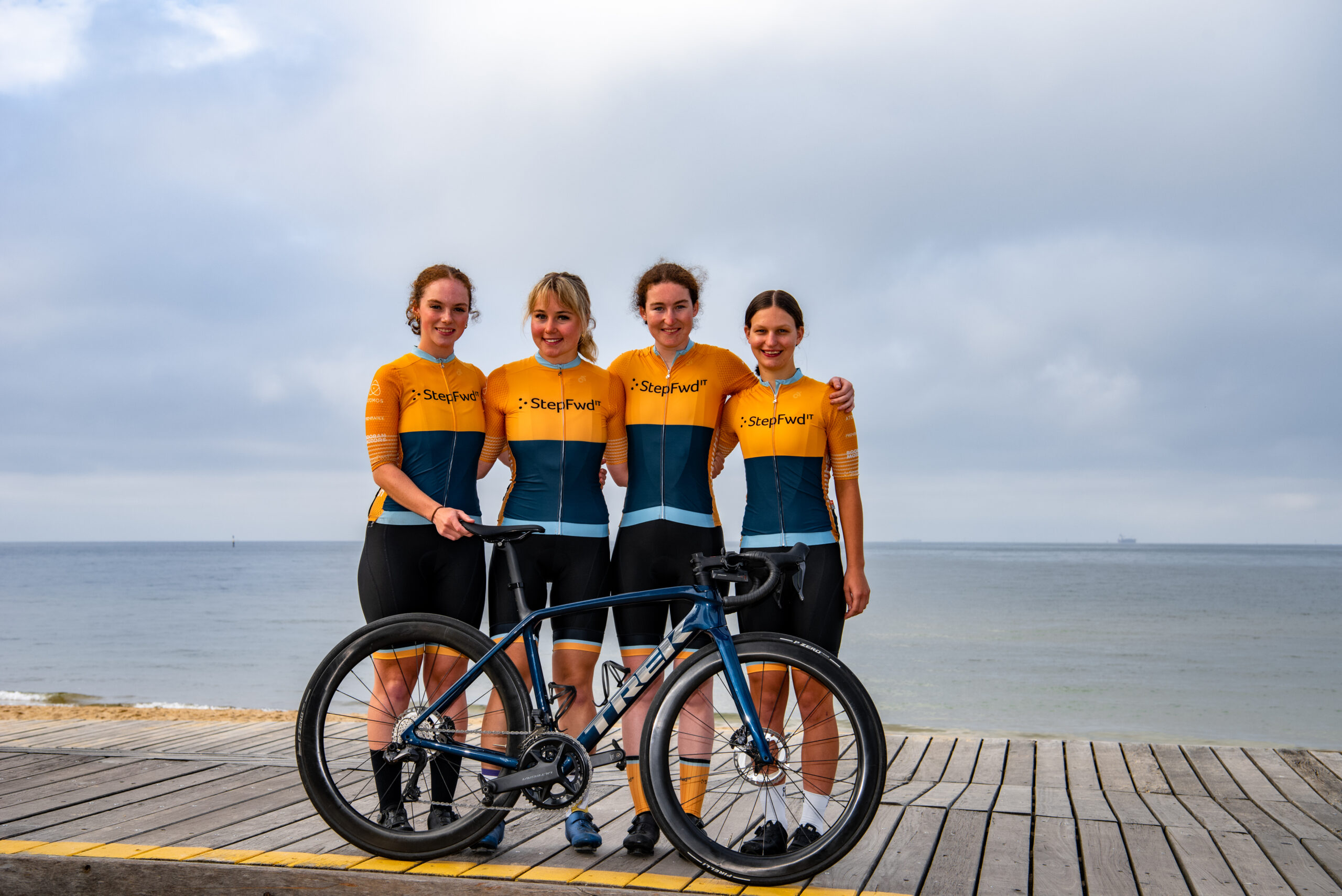 ICE to partner with Step Fwd IT and BYD Automotive to establish an unprecedented development pathway for young up and coming female cyclists aiming to compete in the Australian National Road Series.
The program will initially focus on the grassroots level of the sport, assisting with the professional development of it's athletes both on and off the bike. The long-term goal however will be to have all of it's athletes remaining involved and active in the ICE community during their careers, supporting their sporting ambitions, whilst preparing them for a career after cycling. An aspect of the sport that has been identified as severely lacking, particularly for female athletes.
"For us it is about personal and professional development, on and off the bike" – ICE Founder & CEO Ryan O'Neill said of the program.
"It is the countless stories of resilience from current and former athletes of the team, that don't reach the pinnacle of the sport, that's inspired me to explore how our Australian community can collectively collaborate, to evolve a platform that will not only produce more stars like Grace Brown, but leverages a shared passion and purpose to develop opportunities for mentorship and career pathways for all." 
For ICE, collaborating with an existing and established team was a fundamental objective to the success of the program, and for Step Fwd Cycling's Partnerships Manager Mark Harland, it was an opportunity that aligned with the core goals and values of his team:
"For us our focus has always been on grassroots. Giving the athletes racing opportunities and developing the future stars. To have ICE and it's community behind the team, it allows us to create a pathway for mentorships, not just the riders, but also the teams management, to take our race team to the next level and also have a hand in the professional development of our athletes for post career"
Formed in 2010, the team was established with the purpose of identifying talented female cyclists and providing them with development opportunities and pathways through to the elite level of racing in Australia and overseas. The program has already seen great success in their mission over the last few years with Grace Brown (FDJ-SUEZ), Brodie Chapman (Trek-Segafredo) & Sarah Gigante (Movistar) all moving on the women's WorldTour. The team has evolved over the past decade with the support of Chris Mannering from Step Fwd IT to become one of the most powerful domestic cycling teams in Australia with a strong pedigree of developing riders into successful professional athletes.
About International Cycling Executives
International Cycling Executives is a community of like-minded senior executives connecting over a shared passion for cycling. We help our members and partners form deep, lasting, real relationships both personally and professionally with programs in Australia & Singapore with active members across The US and Europe.
Contact: Ryan O'Neill – Founder & CEO
About Step Fwd IT
Founded and led by Chris & Olivia Mannering in 2009, Step Fwd IT are a family-run company with the business niche of delivering highly customer-focused IT solutions and partnerships with Victorian schools and SME's. As a Technology Partner, the foundation of their work lies in curating collaborative and valued relationships with their clients, as they strive to go above and beyond to understand the IT needs and goals of each and every organisation they work with."
Contact: Chris Mannering – Director & CEO
About BYD
Established in 1995, BYD is a top high-tech company specialised in IT, automobile and new energy. BYD is the largest supplier of rechargeable batteries in the globe and has the largest market share for Nickel-cadmium batteries, handset Li-ion batteries, cell-phone chargers and keypads worldwide. It also has the second largest market share for cell-phone shells in the globe. BYD Auto has become the most innovative auto brand and leads the field of electric vehicles with unique technology. In the field of new energy, BYD has developed green products such as solar farm, battery energy storage station, electric vehicle, and LED, etc. It will continue to lead the new energy revolution in the world!
Contact: Mark Harland – Partnerships Manager